[Info] Ku Hye Sun related – Documentary "Heo Nanseolheon" awarded Platinum Remi at WorldFest-Houston International Film Festival
WorldFest-Houston International Film Festival wrapped up its 48th season on April 20. special documentary film "Heo Nanseolheon" (produced by Son Byeong-Gook), in which Ku Hye Sun played the leading role, received the Platinum Remi in Biographical category.
WorldFest-Houston is the third longest-running International Film Festival in North America, and the Oldest Independent Film Festival in the world. The Grand Remi is presented for the top award in each major category. The Special Jury Awards are Grand Remi Nominees, they are the highest awards for creative excellence in each major category. Then the Platinum, Gold, Silver and Bronze Remi Awards are 1st, 2nd, 3rd and 4th place in each sub-category. 
This year, There were more than 4,300 category entries in all film and video competitions, and less than 12% of submitted entries placed for WorldFest Remi awards. For full award result, please click here.
Source: worldfest.org, robly.com & wikipedia.org
Tags: Ku Hye Sun related - Documentary "Heo Nanseolheon" awarded Platinum Remi at WorldFest-Houston International Film Festival
♥♥Love Minsun♥♥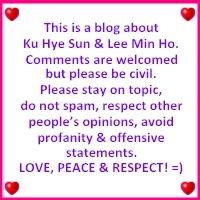 Archives