[News] Lee Min-ho's chocolate ad gets 1.5m views
Hallyu actor Lee Min-ho's advertisement for Ferrero Rocher chocolate was viewed more than 1.5 million times on YouTube and Facebook combined within five days of its Oct. 16 release.
The commercial shows Lee transported from Seoul to Rome upon purchasing a box of Ferrero Rocher chocolate. Lee drives a "Roman Holiday"-like scooter across the Mediterranean city's picturesque sunset to join a friendly party with the sweets.
The chocolate brand is soon to unveil a behind-the-scenes video of Lee during the filming of the clip.
Source: kpopherald
♥♥Love Minsun♥♥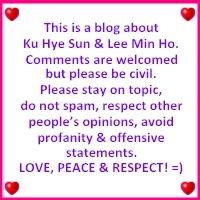 Archives