[News] Lee Min-ho's ad on Korean tourism attracts over 20m viewers on YouTube
A promotional video on Korean tourism has attracted more than 20 million views on YouTube as of Tuesday. The ad features iconic hallyu star Lee Min-ho, who has garnered huge popularity across Asia after appearing in a number of hit dramas including "The Heirs" and "Boys over Flowers."
The video captures various tourist attractions in Korea, including Busan's Gamcheon village, Jeonju's Hanok village and Seoul's Dongdaemun Design Plaza. Lee also made a special appearance at various locations in Seoul, including Samcheong-dong and Seochon.
On Sept. 25, the 26-year-old actor has been also appointed an honorary ambassador for upcoming 2018 PyeongChang Winter Olympics and Paralympics. The appointment ceremony held at DDP in Seoul was also aired on Chinese broadcaster CCTV.
Lee is currently shooting "Bounty Hunters," a multinational action film that features five bounty hunters who chase fugitives for money in Korea, China, Hong Kong and Thailand.
By Ko Ji-seon (jiseonko@heraldcorp.com)
Source: kpopherald
Tags: Lee Min-ho's ad on Korean tourism attracts over 20m viewers on YouTube
♥♥Love Minsun♥♥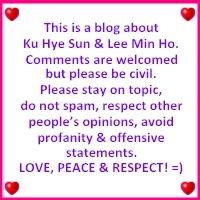 Archives