[Video] 150731 FOROtv – Coreana ícono de la k-drama – Ku Hye Sun interview
Source: noticieros.televisa.com
Brief translation by LauraA @ soompi
Q: We were just talking about South Korea last week and especially kpop and the arts, today presented to a woman who is an actress, singer, songwriter, artist, model, film and television director, writer, guitarist and pianist Ku Hye Sun, Who visited our country.
basically after the reporter spoke that her fame can see through blogs and videos that raise their fans, and as the press pays attention to everything she does and it shows in the press conference of her latest drama Blood, the reporter tells the story of the drama, and also says that despite criticism she received for her performance the drama was a success, says that easily fame and beauty can pigeonhole but she does not bother her much less worries and she is really talented, and the reporter cite all her skills, actress, director, etc. then KHS says, "everyone has their own life and manner, then I prefer to do what I want and enjoy it. I do not think an actor only need to play a role, and that a painter should only draw", then the reporter tells a little her life, when she was born, when she debuted as one began and the drama that followed, also mentions her latest film and "tango", then I think they asked who was her inspiration or mentor, to which she replies "I can not choose one person because I have played a lot of content and movies, the truth that influenced me most my art teacher in the village where I lived as a child, that actors of the West", then the reporter mentioned about her paintings and her exhibition 2013, and that the critical  mentioned that her works may notice the hand of an artist working from the heart so it can reproduce the beauty of art with easily, KHS mentions " I have been changing my style of painting of my twenties, I liked to make Abstract paintings depicting thought, but now I prefer to draw something more specific like animals, I want to live imagining more freely and try draw that way, and as I said I can not mention a only mentor, because I have greatly influenced contemporary painters, finally the reporter mentioned the latest album of KHS and tracks it contains.
well and does not mention anything else, if was for some project or vacation, or if was alone or accompanied.
Tags: 150731 FOROtv - Coreana ícono de la k-drama - Ku Hye Sun interview
♥♥Love Minsun♥♥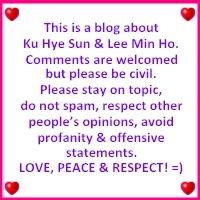 Archives