[Video] Lee Min Ho – "Thank You" lyric MV & Video Message
——————————-
Hello, I'm Lee Minho.
Thank you everyone who congratulated me. A lot of fans celebrate my birthday.
I appreciate my fans(bow).
(Smile) The day is gloomy and sad because it is the last birthday of my twenty.
But I can have pleasure with you, my fans.
Thank you so much everyone, I want to you will be happy. Thank you!
Source: minozworld.com (1) (2)
♥♥Love Minsun♥♥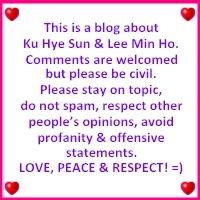 Archives