[Video] 140822 mbc news – news about "My Time for Hong Kong" (Ku Hye Sun related)
This article promotes My Time for Hong Kong and at the same time talks about why some K-entertainers become absorbed in art.
In the video, Ku said, "Now that I am healed, it is like now that sadness is stained over there (i.e. the art piece). It is like what was inside of me has come out."
It means that behind the glamorous life is the lonely inside that becomes largely healed  through art.
Some people may wrongfully criticize these entertainers by saying that they are just "playing with art", but they cannot ignore the fact that art is another medium through which the public and the stars communicate and sympathize with each other.
Source: media.daum.net
Translation by cheerkoo @ soompi
Tags: 140822 mbc news - news about "My Time for Hong Kong" (Ku Hye Sun related)
♥♥Love Minsun♥♥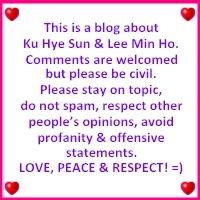 Archives